The World Health Organization says that insufficient physical activity is one of the leading risk factors for death and
recommends
that adults should do at least 150 minutes of moderate-intensity physical activity per week. They go even further, claiming that for additional health benefits, adults should increase their moderate-intensity physical activity to 300 minutes per week.
I was making a map showing the percentage of adults practising sports, fitness or other recreational physical activities at least once a week (see below) when it dawned on me that there is actually no correlation between life expectancy and regular physical exercice.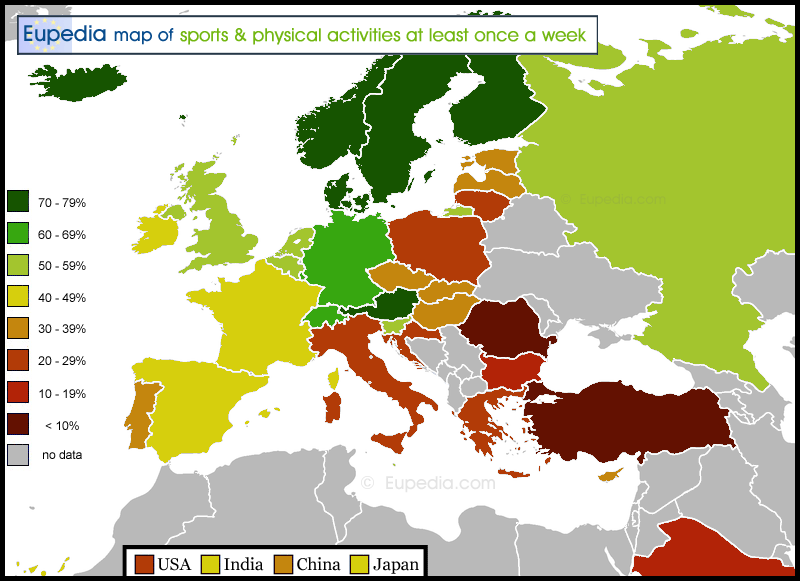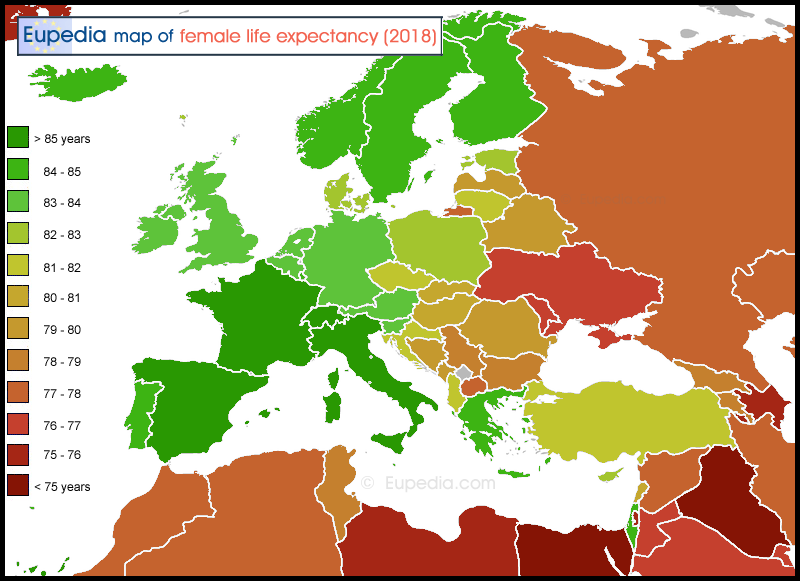 As you can see, countries where people live the longest are France, Switzerland, Italy and Spain for women, and Switzerland, Italy, Israel and Iceland for men.
I wondered if that could be because Nordic/Germanic people only started being so physically active in the last few decades and that life expectancy could therefore have started at a lower point than in Latin countries, but might be on its way to catch up and overtake them? In other words, Latins may have had a head start thanks to better diets and climate, but once modern lifestyle allows a more varied diet, regular holidays in the sun and plenty of physical exercice for northerners, the gap would shrink and Nordics would eventually live longer.
To verify this, I checked the
evolution of life expectancy
(OECD data) in Nordic vs Latin countries + Greece.
| | | | | |
| --- | --- | --- | --- | --- |
| Country | 1970 | 2015 | Increase | % of weekly PA |
| Spain | 72.00 years | 83.00 years | +11.00 years | 46% |
| Iceland | 74.00 years | 82.50 years | +8.50 years | 70% |
| France | 72.20 years | 82.40 years | +10.20 years | 49% |
| Italy | 72.00 years | 82.60 years | +10.60 years | 26% |
| Norway | 74.40 years | 82.40 years | +8.00 years | 70% |
| Sweden | 74.80 years | 82.30 years | +7.50 years | 71% |
| Portugal | 66.70 years | 81.20 years | +14.50 years | 35% |
| Greece | 73.80 years | 81.10 years | +7.50 years | 23% |
| Denmark | 73.30 years | 80.80 years | +7.50 years | 74% |
The data shows that the opposite is true. Countries that don't exercice too much, including Italy and Portugal, gained the most years of life expectancy. Nordic countries and Greece gained the least years of life expectancy. Danish people exercice the most and have the lowest life expectancy in these countries.
There are of course many factors influencing life expectancy. Regarding nutrition, Italian, Swedish and Norwegian people drink the least alcohol, and Portuguese the most. Yet the Portuguese got the bigger boost in life expectancy. The highest meat consumption per capita in Europe is in Spain, while Norway has one of the lowest. Yet Spaniards live longer. Sweden has a lot of vegetarians, while Portugal and Spain hardly have any. Ditto. Obesity is higher in France and Spain than in Scandinavia. Diabetes is the highest in Portugal among the countries listed above.
Cancer rates have no influence of regional variations in life expectancy either. They are high in Denmark, moderate in Norway and low in Sweden, relatively high in France, moderate in Italy and Portugal and low in Spain. Heart disease rates are not very different between these countries and are actually lower in Denmark than in Italy.
You can check all the
health-related maps of Europe
I made. There is just no simple way to explain why Latin Europeans increased their life expectancy faster than Nordic people. The best correlation seems to be the evolution of GDP per capita, but money itself does not make people live longer. It must be correlated with something that increase together with wealth. Yet Nordic countries are on top of almost every measurable aspect of well being in Europe. They are the happiest, have the highest Human Development Index, the best democracies, the lowest socio*economic inequalities, the best education and welfare systems, exercice the most... But even projections for life expectancy say that the Danes are not going to overtake the Italians, French, Spaniards or even Portuguese for life expectancy in the coming decades. The question is why?
Last edited: