I believe that individualism is an innate (hence genetic/hereditary) trait of character. It's opposite is collectivism. Please check the thread
How individualistic are you ?
for a preface. I believe that the individualism-collectivism dichotomy is responsible for many fundamental cultural differences between European countries.
Strongly
individualistic
people
leave the parental home at a younger age
, would rather choose to
live alone
than with a flat mate, have a
higher divorce rates
, are more
flexible about moving
to another city or country, and prefer
travelling by themselves
than with a group or organised tour.
Individualists are
motivated by self-improvement (their own ego)
rather than by the approval or respect from others. In sports, individualists care more about beating their own records than by beating others. For example, a collectivist-minded sprinter will care about winning the race, while an individualistic-minded sprinter might be disappointed to win if he didn't do a good time.
Individualistic societies do not put a lot of importance on the group and are therefore
more open to outsiders
(outsiders are taken for who they are as individuals not what group they used to belong to). Consequently they tend to be more
socially liberal
(giving more freedom to individual expression). This is because the USA, Canada or Australia were all individualistic societies to start with that they could become the cosmopolitan immigration countries that they are now. Strongly collectivist countries like Japan, China, or most Mediterranean countries have much more trouble accepting outsiders to their group, even from similar neighbouring countries.
Individualistic people can also be more entrepreneurial and economically liberal, but
only if their uncertainty avoidance is low
at the same time.
Collectivist
people care more about
personal ties
,
belonging to a group
,
feeling accepted and respected within the group
, but tend to be more clannish too and to
distrust people outside their group
. Collectivists are first and foremost
approval seekers
, who
care about their image
and what others think of them.
It is vital to understand that collectivism is a totally different concepts from egalitarianism, socialism or communism.
- collectivism
: caring about what others in your group think of you, caring about the image of your group from the outside. It's essentially about image, respect, interpersonal relationships and emotional dependence on the group.
- egalitarianism
: feeling/opinion that other people in society deserve the same fundamental rights (which nowadays has come to include social security and education, in addition to freedom). Egalitarian societies also prone lower
income inequalities
and equal salaries between men and women. Nordic countries, which are individualistic, are usually regarded as the most egalitarian. This doesn't prevent some strongly collectivist countries to be egalitarian (e.g. Japan). Some English-speaking countries are quite egalitarian (Ireland, Canada, Australia), while others are among the least egalitarian in the world (USA), but all are resolutely individualistic. There is absolutely no correlation between egalitarianism and individualism.
- socialism/communism
: economic system in which the state owns a large part of the economy and plays a strong role as a regulator (using restrictive laws, taxes, subsidies, etc.). Historically socialism was never really implemented before the 20th century, but
all
developed countries now have at least some socialist policies. The only countries that still lack the socialist system of tax redistribution in public health care, education, pensions and other public services are all strongly collectivist countries (mostly in Africa). The most individualistic countries in Europe have some of the most generous socialist systems too (obviously Scandinavia, but also Britain which has one of the few completely free health care in the world). Therefore socialism is a really more an index of socio-economic development and is completely unrelated to the individualism level.
None of these three concepts are related with one another other than by chance and circumstances.
Collectivism is a character trait set in the genes.
Egalitarianism is a variable opinion that depends a lot on the (genetic and cultural) homogeneity of society, but also on deep-rooted cultural values that evolve with time.
Socialism is a political and economic system which popularity depends on the electorate, the socio-economic history of a region, the current economic climate, and many other factors.
I have expanded more about individualism in
this thread
(not just the OP, but posts further down too) especially about its relation to entrepreneurialism and the establishment of population colonies.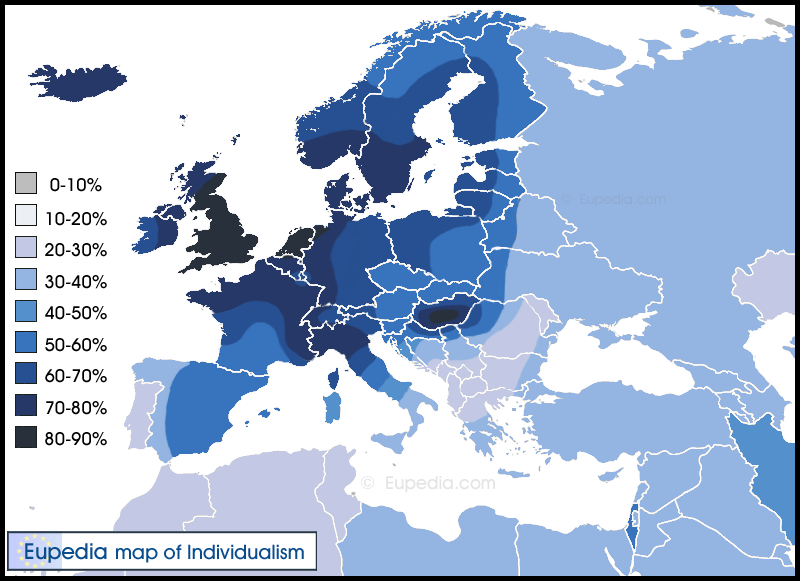 I have used
Geert Hofstede's scale of individualism vs collectivism
to make the map. There was a lot of data missing in Eastern Europe, which I had to infer from the score for neighbouring countries and based on the genetic and cultural similarities. Genetic traits don't fit neatly within a country's political border. In general I have found that the percentage of Y-DNA haplogroup R1b-L11 (Celto-Germanic) correlates fairly well (though not perfectly) with high scores for individualism. The strongest matches seem to be the
S21/U106
and
S28/U152
subclades.
Italy has a strong north-south gradient. In Germany and Poland it is a weak east-west gradient. In France I followed the genetic curve separating the more Celto-Germanic north and east against the more Neolithic/Mediterranean centre and southwest.
Bulgaria and Romania had a score of 30, but knowing that Romania had a substantial Hungarian (and German) community in the Northwest of the country, I increased the score for that region and lowered in for the rest of the country to keep the average. I gave Albania, Kosovo, Macedonia and North Greece is lower score than Romania, Bulgaria and the Greek average because these societies are are some of the best examples of collectivism in Europe (e.g. the strong local communities isolated from each others for centuries, strong family ties, strong distrust of the government...).
The Arab World got an average score of 38, but West Africa of 20, so I gave the Maghreb an intermediary score.
EDIT : I have made a new map using different colours for individualism (blue), collectivism (red) and an intermediary purple. I also changed the scale.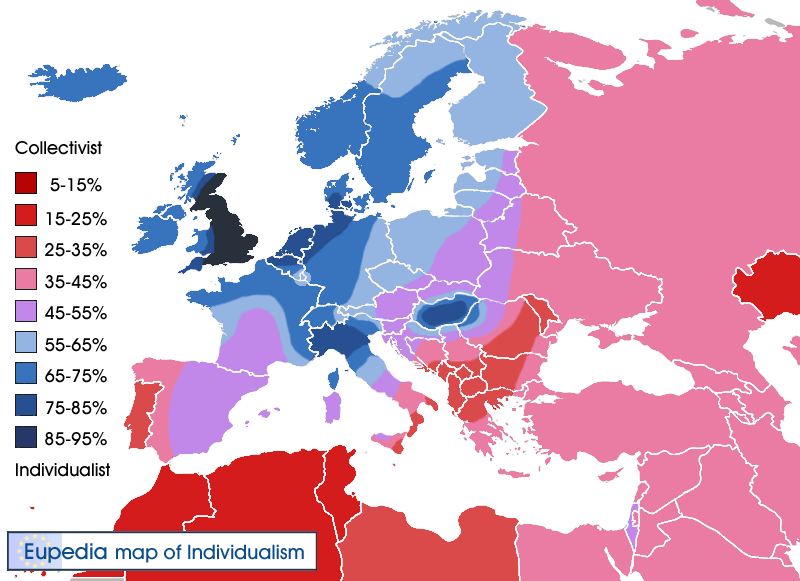 Last edited: