There are now about 100 identified subclades of mt-haplogroup H. Most mitochondrial studies just test H, without mentioning subclades. Fortunately there was one major study on H subclades focusing especially on the two major western and northern European subclades H1 and H3. As these two occur roughly in the same region and probably share the same Palaeolithic origin in the Franco-Iberian
LGM refugia
, I have decided to put them together for this map. Overall H1 is the most common of the two subclades and apparently the only one found in the Near/Middle East.
I see a particularly strong correlation between H1+H3 and the extend of the Megalithic cultures, including the Bell Beaker culture in Western Europe and the Funnelbeaker culture in Scandinavia. The oldest known H1 dates from Mesolithic Portugal (circa 6500 BCE). H1 and H3 have both been found on several sites from Neolithic Iberia and France, including Megalithic cultures.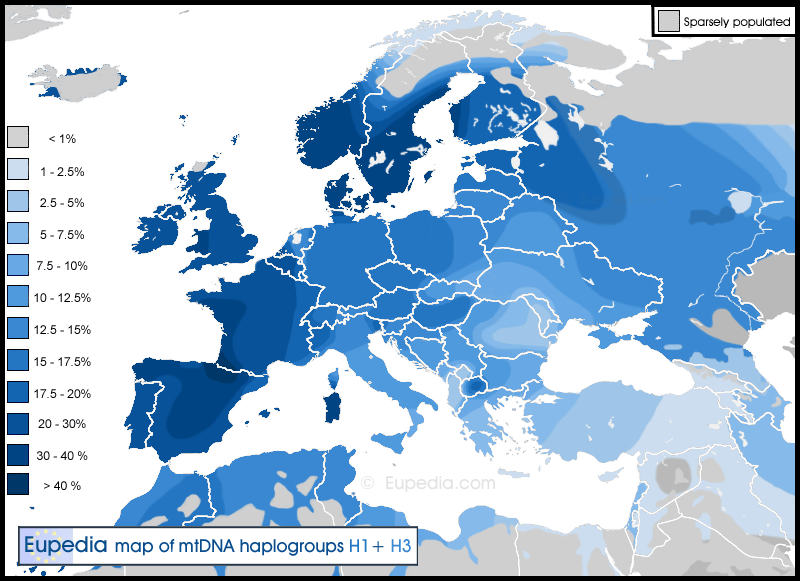 The lower incidence of H1 and H3 in the Benelux is due to the higher percentage of other Mesolithic haplogroups in the region, especially U4 and V, but also U2 and W in the Netherlands.
UPDATE:
a detailed page about the origins, history, distribution and subclades of haplogroup H is now available
here
.
Last edited: