How is Coronavirus spread and how contagious is it?
According to the CDC
, Covid-19 is transferred by aerosol droplets (microscopic drops from respiration in the air) and stays contagious for about 6 hours on most surfaces. But according to a new
meta-analysis of 22 studies
human coronaviruses are related viruses (SARS, MERS)
can persist on inanimate surfaces like metal, glass or plastic for up to 9 days
.
Another paper
says that at lower temperatures, the virus
could survive on a stainless steel surface from 5 to 28 days
. It lasted longest in very cold and dry conditions: at 4°C and 20% humidity. So the environmental conditions play a role too.
According to a
preprint
published last week by researchers at the National Institutes of Health, Princeton, and the University of California, Los Angeles,
coronavirus remains viable in the air for up to three hours
. That's enough to contaminate a lot of people in supermarkets, buses, trains, air planes, airports, etc. if even just one contaminated person in present.
How dangerous is Covid-19?
It highly depends on a number of variables.
1) Age
: Mortality is very rare under 50 years old, then steadily increases with age.
2) Gender
: Men are 50% more likely to die than women.
3) Health
: Suffering from pre-existing conditions like cancer, chronic respiratory disease, hypertension, heart disease and diabetes all increase the chance of dying from the virus, especially in older people.
4) Lifestyle
: Smoking is an aggravating factor, although it is not yet clear how much it modulates the overall risk.
5) Environmental factors
: Mortality rates appear to be higher in regions with severe air pollution such as Chinese cities and
North Italy
.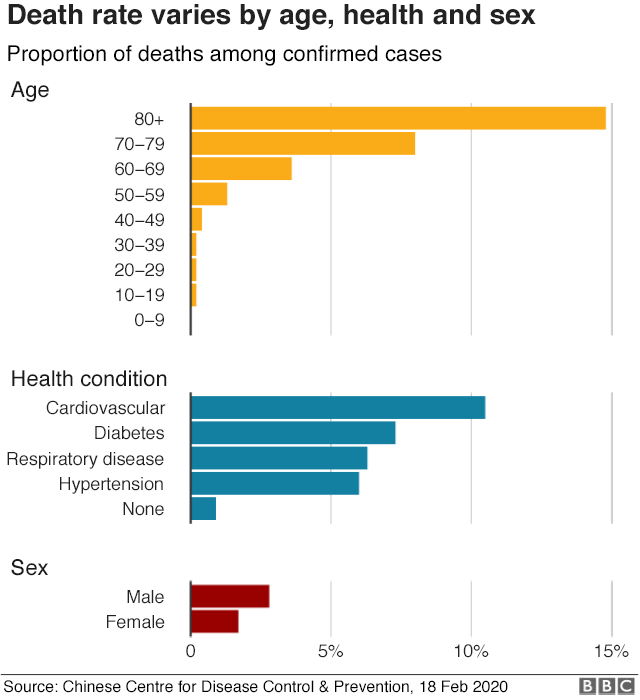 The death rate shown in the BBC graph above is only for severe cases. About half of young and healthy people are asymptomatic or present very mild symptoms and therefore are part of the reported cases, which skews upwards the actual mortality rate. Scientists now believe that the fatality rate is closer to 0.8% instead of the 3.4% originally announced.
Based on my calculations
, that would give the following mortality rate for each age group:
- 0% under 10 years old
- 0.05% from 10 to 39 years old
- 0.1% from 40 to 49 years old
- 0.3% from 50 to 59 years old
- 0.9% from 60 to 69 years old
- 2% from 70 to 79 years old
- 3.7% from 80 years old
How quickly does Covid-19 propagates?
At present, the virus has spread exponentially, with the number of confirmed cases increasing
10 times every 6 to 11 days
depending on the country in the absence of measures of containment or quarantine.
How to follow the diffusion of Covid-19?
The best place is the
Wikipedia 2019–20 coronavirus pandemic page
, which is updated as soon as new data becomes available for each country. There are also maps and detailed data for each country.