Before settling into the Roman Empire from the 4th century onwards, the Goths had migrated from Sweden to East Germany, Poland, then established themselves for a while around modern Moldova and Ukraine.
While looking at pictures of various Bronze-age and Iron-age artefacts, I was startled by the similarity between two Scythian belt plaque and Gothic fibulae, both in the shape of an eagle. 1200 years separate the two artefacts, and yet the style is just too analogous to be related by chance. Judge by yourself.
Scythian eagle (Dnieper area, 7th century BCE)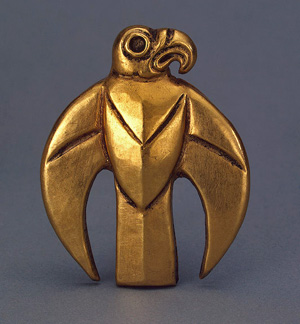 Scythian eagle (?)
Ostrogothic eagle (500 CE)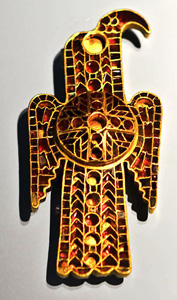 This kind of eagle actually pops up a lot in Visigothic and Ostrogothic art.
Visigothic eagle (Castile-La Mancha, Spain, 6th century CE)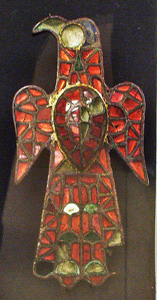 Visigothic eagle (Castile-La Mancha, Spain, 6th century CE)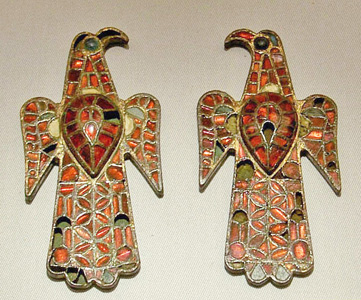 Visigothic eagle (France)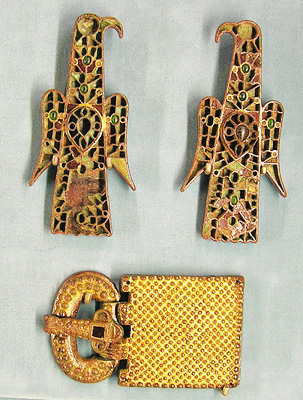 From the 8th to the 5th century BCE, it is actually the Cimmerians who inhabited the north of the Black Sea, from the North Caucasus to the Dnieper. The similarity of name and culture with the Cimbri, a tribe from Jutland in Denmark, has led some to believe that the
Cimbri
are descended from the Cimmerians. The timing fits to some extent. The Cimmerians were expelled from the Pontic Steppe around 500 BCE, while the Cimbri enter the historical records of the Romans in the 2nd century BCE.
But the Scythians still occupied the Pontic Steppe when the Goths moved there in the 3rd-4th century CE. So it could be that the Goths descend from the Cimmerians that moved to Scandinavia, or that the Goths absorbed a considerable number of local Scythians before moving into the Roman Empire.