Messages

268
Reaction score

22
Points

0
Haplogroup J2 and Thracians.
"Cruciani et al.'s E-V13 and J2-M12 coalescence times bear a striking similarity to carbon-14-based date calculations for certain archaeological sites in the Maritsa river valley and its tributaries, near the city of Nova Zagora, Bulgaria (Nilolova, 2002). These sites are associated directly with the proto-Thracian culture of the southern Balkans that came to dominate the region during the first millennium BCE. Sites surveyed included Ezero, Yunatsite, Dubene-Sarovka and Plovdiv-Nebet Tepe, all of which had deep associations with the developing EBA proto-Thracian culture of the region."
Haplogroup E3b1a2 as a Possible Indicator of Settlement in Roman Britain by Soldiers of Balkan Origin.
http://www.jogg.info/32/bird.htm
Thracian Peltast.
"Of course, there are more ways for J2b2 members to have spread to the areas highlighted on the J2b2 heatmap as being suggested in this paper, it is interesting however to see how easily all these regions are connected through Greek, Macedonian and/or Thracian mythology, history and migrations."
Analysis of the J2b2 M241 Geno 2.0 Heatmap. Comparing historical data with heatmap hotspots.
https://www.facebook.com/download/467207646662545/Analysis of the J2b2 M241 Geno 2.0 Heatmap.docx
"Research conducted by the administrators of the Border Reivers DNA Project has identified numerous haplotypes in persons of British descent that show Haplotype 35 markers. Moreover, most of these haplotypes appear to originate from areas of Britain near the Antonine Wall, Hadrian's Wall and other places of Roman fortification or settlement. These areas include Galloway, Dumfries, Ayrshire and The Borders in Scotland, and Cumbria, Yorkshire, Lancashire, Shropshire and Staffordshire in England. Many of the Roman troops stationed in these areas came from Southeastern Europe or Western Asia. They included Sarmatians, Dacians, Goths, Syrians, Mesopotamians, Thracians and Anatolians."
Elliot (And border receivers) DNA Project (Haplogroup J2) - Haplogroup R1b (Haplotype 35).
http://freepages.genealogy.rootsweb.ancestry.com/~gallgaedhil/haplo_r1b_ht35_analysis.htm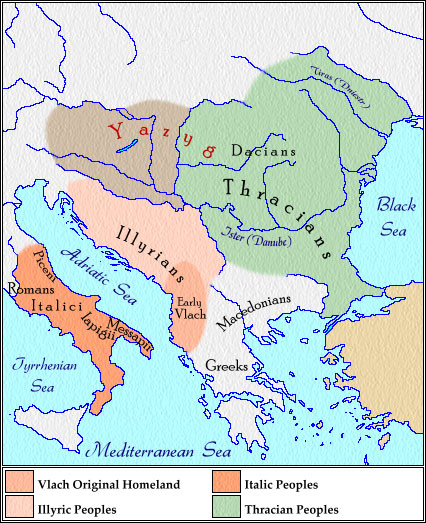 "Bulgarian DNA profile is congruent with those described for most European populations. Almost the entire Bulgarian mtDNA pool is made up of West Eurasian lineages, with just 0.9% of Eastern Asian lineages. It is a similar picture from Y-chromosome haplogroups. About 80% of the total genetic variation in Bulgarians falls within haplogroups E-M35, I-M170, J-M172, R-M17 and R-M269, all found elsewhere in Europe."
Wikipedia.org - Bulgarians.
http://en.wikipedia.org/wiki/Bulgarians
"Leaving aside Apulians, Indians and Nepalese, the highest ages, compatible with a Neolithic expansion, are obtained in regions around the Black Sea, namely Anatolia (9.1±2 kya) and Bulgaria, in particular its central part (7.8±3 kya). Consequently, in this region, haplogroup J-M241 can be considered as a genetic signal of the expansion of farmers towards Southeast Europe possibly enhanced by the breaching of the Bosphorus Sill and the flood of the Pontic Lake with marine water."
Y-Chromosome Diversity in Modern Bulgarians: New Clues about Their Ancestry.
http://www.plosone.org/article/info:doi/10.1371/journal.pone.0056779
"Interesting results from the lineage analysis can be summarized as follows: (i) R-L23*, the eastern branch of haplogroup R-M269, is present in Eastern Bulgaria since the post glacial period; (ii) haplogroup E-V13, which probably originated in Western Asia, has a Mesolithic age in Bulgaria from where it expanded after the spread of farming marked by haplogroup G-P15, J-M410 representatives; (iii) haplogroup J-M241 probably reflects the Neolithic westward expansion of farmers from the earliest sites along the Black Sea."
Y-Chromosome Diversity in Modern Bulgarians: New Clues about Their Ancestry.
http://www.plosone.org/article/info%...l.pone.0056779
Last edited: