Origins
Haplogroup G is believed to have originated around the Middle East during the late Paleolithic, possibly as early as 30,000 years ago. At that time humans would all have been hunter-gatherers, and in most cases living in small nomadic or semi-nomadic tribes. Members of this haplogroup appear to have been closely linked to the development of early agriculture in the Levant part of the Fertile Crescent, starting 11,500 years before present. There has so far been ancient Y-DNA analysis from only four Neolithic cultures (LBK in Germany, Remedello in Italy and Cardium Pottery in Southwest France and Spain), and all sites yielded G2a individuals, which is the strongest evidence at present that farming originated with and was spread by members of haplogroup G.
So far, the only G2a people negative for subclades downstream of P15 or L149.1 were all from the South Caucasus region. The highest genetic diversity within haplogroup G is found between the Levant and the Caucasus, another good indicator of its region of origin. It is thought that early Neolithic farmers spread from the Levant westwards to Anatolia and Europe, eastwards to Mesopotamia and South Asia, and southwards to the Arabian peninsula and North and East Africa. The domestication of goats and cows first took place in the mountainous region of eastern Anatolia, including the Caucasus and Zagros. This is probably where the roots of haplogroup G2a (and perhaps of all haplogroup G) are to be found.
Geographic distribution
Nowadays haplogroup G is found all the way from Western Europe and Northwest Africa to Central Asia, India and East Africa, although everywhere at low frequencies (generally between 1 and 10% of the population). The only exceptions are the Caucasus region and Sardinia, where frequencies typically range from 15% to 30%.
Most Europeans belong to the G2a subclade, and most northern and western Europeans more specifically to G2a-L141.1 (or to a lower extend G2a-M406). About all G2b (L72+, formerly G2c) Europeans are Ashkenazi Jews. G2b has also been found around Afghanistan, probably as an offshoot of Neolithic farmers from the Levant.
Haplogroup G1 is found predominantly in Iran, but is also found in the Levant, among Ashkenazi Jews, and Central Asia (notably in Kazakhstan).
G2a makes up 5 to 10% of the population of Mediterranean Europe, but is fairly rare in Northern Europe. The only places where haplogroup G2 exceeds 10% of the population in Europe are Cantabria, Switzerland, the Tyrol, south-central Italy (Molise, Central and Southern Apennine), Sardinia, northern Greece (Thessaly) and Crete - all mountainous and relatively isolated regions.
Distribution of haplogroup G in Europe, North Africa and the Middle East
Expansion of agriculture from the Middle East to Europe (9500-3800 BCE)
Subclades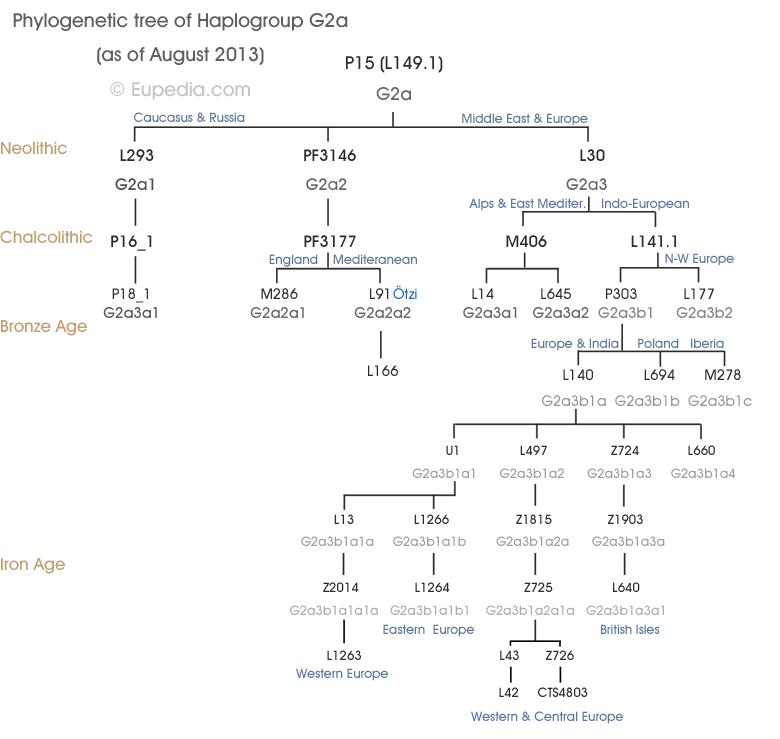 History of G2a
There are several theories regarding the origin of G2a in Europe. There are doubtlessly cumulative rather than exclusive.
Neolithic mountain herders
Chronologically, the first hypothesis is the advance of Neolithic farmers and herders from Anatolia to Europe between 9,000 and 6,000 years ago. In this scenario the Caucasian migrants would have brought with them sheep and goats, which were domesticated south of the Caucasus arbout 12,000 years ago. This would explain why haplogroup G is more common in mountainous areas, be it in Europe or in Asia.
The geographic continuity of G2a from Anatolia to Thessaly to the Italian peninsula, Sardinia, south-central France and Iberia already suggested that G2a could be connected to the Printed-Cardium Pottery culture (5000-1500 BCE). Ancient DNA tests conducted on skeletons from a LBK site in Germany as well as a Printed-Cardium Pottery site in southern France (Languedoc-Roussilon) as well as in Spain all confirmed that Neolithic farmers in Europe belonged primarily (even exclusively if assimilated local population are omitted) to haplogroup G2a.
Nowadays G2a is found mostly in mountainous regions of Europe, for example, Cantabria (over 10%) in northern Spain, Switzerland (10%), Austria (8%), Auvergne (8%) in central France, the mountainous parts of Bohemia (5 to 10%), and Wales (4%). It may be because Caucasian farmers sought hilly terrain similar to their original homeland, perhaps well suited to the raising of goats. But it is more likely that G2a farmers escaped from Bronze-Age invaders, such as the Indo-Europeans and found shelter into the mountains.
G2a-P303, the Indo-European branch of G2a
The presumed homeland of R1b1b and Pre-Proto-Indo-European speakers is assumed to be in northern Anatolia and/or the North Caucasus. The Caucasus itself is a hotspot of haplogroup G. Therefore, it is entirely conceivable that a minority of Caucasian men belonging to haplogroup G (and perhaps also J2b) integrated the R1b community that crossed the Caucasus and established themselves on the northern and eastern shores of the Black Sea sometime between 7,000 and 5,000 BCE. Those Proto-Indo-European would have belonged evolved to R1b1b2a1 and G2a-P303 (G2a1c2a, formerly known as G2a3b1a) before their epic conquest of Europe starting timidly in the Balkans around 4000 BCE and completed when all the Atlantic fringe from Iberia to the British Isles was settled, around 2000 BCE. Contrarily to other branches of G2a, which are more prevalent in mountainous areas, G2a-P303 is found uniformy throughout Europe, even in Scandinavia and Russia. More importantly, G2a-P303 is also found in India, especially among the upper castes. The combined presence of G2a-P303 across Europe and India is a very strong argument in favour of an Indo-European origin. The coalescence age of G2a-P303 also matches the time of the Indo-European expansion during the Bronze Age.
Roman redistribution
It is most likely that G2a arrived in Europe during the Neolithic or the Bronze Age and that the Romans helped spread it around, the whole of Italy being relatively rich in G2a. Migrations within the Roman Empire probably contributed to a moderate increase of G2a northward to Gaul and Britain, Indeed, the frequency of haplogroup G decreases with the distance from the boundaries of the Roman Empire. Haplogroup G is extremely rare Nordic and Baltic countries nowadays, despite the fact that agriculture reached those regions around the same time as Britain or Ireland. This may just be a coincidence, because the forested lowlands of northern Germany, Poland and northern Europe happen to be poor in metals and would not have attracted Bronze-Age workers from the Caucasus. North-East Europe also has a fairly modest frequency of R1b, which further reinforces the correlation between the two haplogroups.
Alanic G2a1a
G2a1a lineages have been found sporadically in Central and Western Europe. The only ethnic group that has a majority of haplogroup G2a1a nowadays are the Ossetians in the North Caucasus, in the modern Russian Republic of North Ossetia-Alania. They are thought to descend directly from the Alans, a Central Asian tribe related to the ancient Samartians. Could it be that these European G2a1a individuals are direct descendants from the ancient Alani (or Alans), a tribe that invaded the Roman Empire in the late 4th and early 5th centuries ?
The Alans are recorded to have settled in the northeast Azov Sea area at the the beginning of the 1st century. They created a kingdom that quickly expanded to control all North Caucasus region, from the shores of the Black Sea to the Caspian Sea. Around 370, the Alans were overwhelmed by the Huns. They were divided into several groups, some of whom fled westward. Some of these western Alans joined the Vandals and the Suevi in their invasion of Roman Gaul. They crossed of the Rhine on 31st December 406. One group of Alans settled in the Seine basin, from Champagne to Upper Normandy, with smaller settlements as far as Brittany and the Loire valley. In 451, the Alans defeated Attila and Hun at the Battle of Châlons, near Reims.
Another contingent of Alans migrated to Iberia (Castile and Andalusia) alongside the Vandals. In 429, a group of Vandals and Alans crossed over to North Africa, where they established a kingdom. They took Carthage (present-day Tunis) in 439, then conquered Sicily, Sardinia, Corsica and the Balearic Islands in the next few years, and sacked Rome in 455. The Alano-Vandalic Kingdom would last until 534, when it was defeated by and annexed to the Byzantine Empire.
Although the original Alanic elite from Central Asia surely belonged primarily to haplogroup R1a, the people who had become known as the Alans after three centuries of rule in the North Caucasus were mostly local G2a1a people.
Commercial Y-DNA tests (notably at FTDNA) have so far found G2a1a members in Hungary, Italy (Sicily, Calabria), England and Spain (Castile, Andalusia). All these people have close STR matches with North Ossetians, and almost nobody else, confirming the Alanic link. Although the Alans never went to England, they settled in what would become Normandy, and it is therefore only natural that some of these lineages ended up in England. France having laws restricting the purchase of commercial DNA tests there is very little data at the moment.
Scythian G1
Haplogroup G1 is the South and Central Asian branch of haplogroup G. While G2a men migrated west to Anatolia and Europe in the Neolithic, their G1 cousins migrated east to Persia and India. Only very rare cases of G1 have been found in Europe, including in Britain, Germany, as well as most of Southern, Central and Eastern Europe. How did these G1 lineages get there ?
Central Asia became a merging zone for southern G1 and J2 lineages with northern R1a lineages during the Bronze and Iron Ages. New hybrid peoples were formed, like the Scythians, who once controlled an empire ranging from northern Pakistan to Xinjiang and to Ukraine. The Romans were known to recruit Scythian or Sarmatian horsemen in their legions. According to C. Scott Littleton in his book From Scythia to Camelot, several Knights of the Round Table were of Scythian origin, and the the legend of Holy Grail itself originated in ancient Scythia. This hypothesis was also taken up in the 2004 movie King Arthur, which opens with the arrival of Scytho-Roman cavalry in Britain. However, Scythians were steppe people more likely to belong to haplogroup R1a. If any of them did belong to G, they presumably were G1, not G2a. This would explain the scattered cases of G1 in north-western Europe though. G2a1b1 (M286), which also been found in Britain and Anatolia (and nowhere in between so far), is another potential candidate.
Famous individuals
| | |
| --- | --- |
| | Ötzi the Iceman, Europe's oldest natural human mummy, dating from 5,300 years ago, had his full genome sequenced (the oldest European genome ever tested) and was found to belong to haplogroup G2a-L91 (G2a1b2, formerly known as G2a4). |
| | |
| --- | --- |
| | Laluez-Fo et al. analysed the DNA from a handkerchief dipped with the blood of Louis XVI after his execution, and identified his Y-DNA haplogroup as G2a1c2a1 (L140+). Charlier et al. (2012) tested the DNA of Henry IV of France, and confirmed haplogroup G2a as the one of the Bourbon lineage. All kings of France being descended in patrilineal line from Robert the Strong (820-866), unless a non-paternity event happened some time before Henry IV, it can be assumed that all kings of France belonged to the same haplogroup. The House of Bourbon also includes all the kings of Spain from Philip V (1683-1746) to this day with King Juan Carlos, all the kings of the Two Sicilies, the grand dukes of Luxembourg since 1964, and of course all the dukes or Orléans and the dukes of Bourbon. |
| | |
| --- | --- |
| | Joseph Stalin, who was of Georgian origin, belonged to haplogroup G2a1a. This was determined by testing his grandson, Alexander Burdonsky (his son Vasily's son). |
Follow-up