Origins
Haplogroup I2 is thought to represent the direct patrilineal descendants of Paleolithic Western, Central and Southeastern Europeans, roughly from Northern Spain to the Carpathians, and from the British Isles to the Balkans. Haplogroup I2 is not the only survivor of Paleolithic Europe: haplogroup I1 occupied Northern Europe (Scandinavia and the shores of the Baltic Sea), haplogroup N1c1 that ranged from eastern Finland and the Baltic countries to Siberia, R1a that was found in the rest of Northeast Europe, and E1b1b which probably made up most of the population of Mediterranean Europe.
Haplogroup I2 might have originated in central Europe, southeastern Europe or even West Asia some 17,000 years ago and developed into six main subgroups : I2a1a (M26), I2a1b (M423), I2a2a (M223), I2a2b, I2b (L416) and I2c (L596).
Subclades
The phylogenetic tree of I2 evolved a lot over the last 7 years and top-level subclades were renamed more often than for any other haplogroup except R1b. To avoid all confusion it is recommended to double-check the defining mutations (SNP's) when reading older studies or making references to a particular subclade.
I2* (M438/P215/S31)

I2a (L460)

I2a1 (P37.2)

I2a1a (M26)

I2a1a1 (L160)
I2a1a2 (L247, L277.2)

I2a1b (M423)

I2a1b1 (M359.2/P41.2)
I2a1b2 (L161.1/S185)
I2a1b3 (L621/S392)

I2a1c (L233/S183)

I2a2 (S33/M436/P214)

I2a2a (M223)

I2a2a1 (M284)

I2a2a1a (L1195)

I2a2a1a1 (L126/S165, L369)
I2a2a1a2 (L1193)

I2a2a2 (L701)

I2a2a2a (P78)
I2a2a2b (L699/L703)

I2a2a3 (Z161)

I2a2a3a (L801/S390/Z76)

I2a2a3a1 (P95)
I2a2a3a2 (Z78)

I2a2a3b (L623)

I2a2a4 (L1229)

I2a2a4a (Z2054)
I2a2a4b (L1230)

I2a2a5 (L1228)

I2a2b (L38/S154)

I2b (L416)
I2c (L596)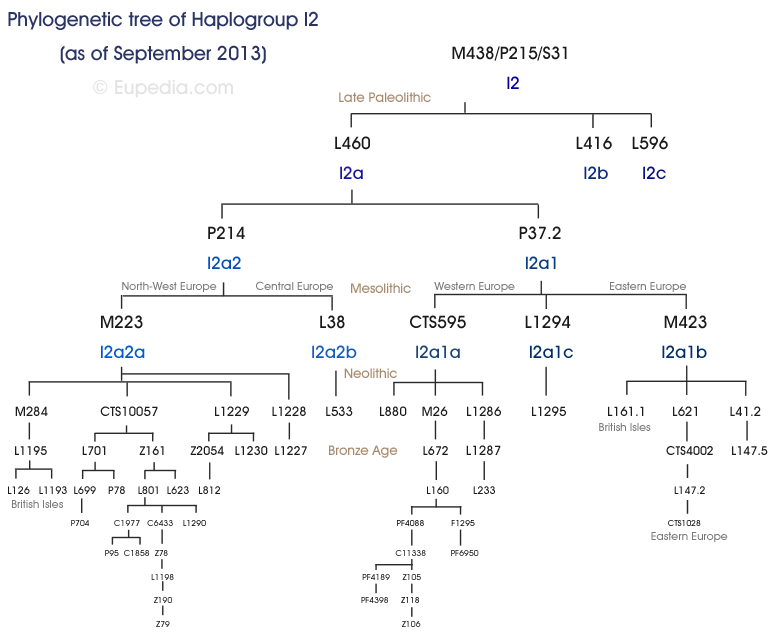 Geographic distribution
I2a1a (M26, L158, L159.1/S169.1) was known as I1b2 until 2005, I1b1b in 2006-7, and I2a1 from 2008 to 2010. It is found chiefly among the Sardinians and the Basques, and is rarely found outside Iberia, Western France, the West coast of Italy and the Mediterranean coast of the Maghreb. It accounts for approximately 40% of all Y-DNA haplogroups among the Sardinians. I2a1a is estimated to be 8,000 years old.
I2a1b (M423, L178) was known as I1b until 2007, and I2a2 from 2008 to 2010. It is typical of the Balkans and the Carpathians, with maximum frequencies observed among the Dinaric Slavs (Croats, Serbs and Bosniaks) as well as in Moldavia and Romania. It is also common to a lower extent in Albania, Northern Greece, Bulgaria, Slovakia, Ukraine, Belarus, and southwestern Russia. The high concentration of I2a1b in north-east Romania, Moldova and central Ukraine reminds of the maximum spread of the Cucuteni-Tripolye culture before it was swallowed by the Indo-European Corded Ware culture. This could mean that the Cucuteni-Tripolye culture was a native European group of hunter-gatherers who adopted farming after coming in contact (with perhaps some intermarriages) with the Levantine farmers who settled in the Balkans (haplogroups E-V13, J2b and T).
The modern territory of I2a1a and I2a1b (Illyria, Italy, Sardinia, Mediterranean coast of France and Spain) matches the extent of the Neolithic Printed-Cardium Pottery culture (5000-1500 BCE), that is believed to have started with the arrival of E-V13 and G2a farmers and herders from Thessaly (northern Greece). It was followed by the Terramare culture (1500-1000 BCE) in the Bronze Age. The R1b Celto-Italic people are thought to have crossed the Alps and invaded the Italian peninsula around 1,000 BCE, replacing most of the indigenous I2a1, G2a and E-V13 people (especially in the northern half).
Distribution of haplogroup I2a1 (formerly I2a) in Europe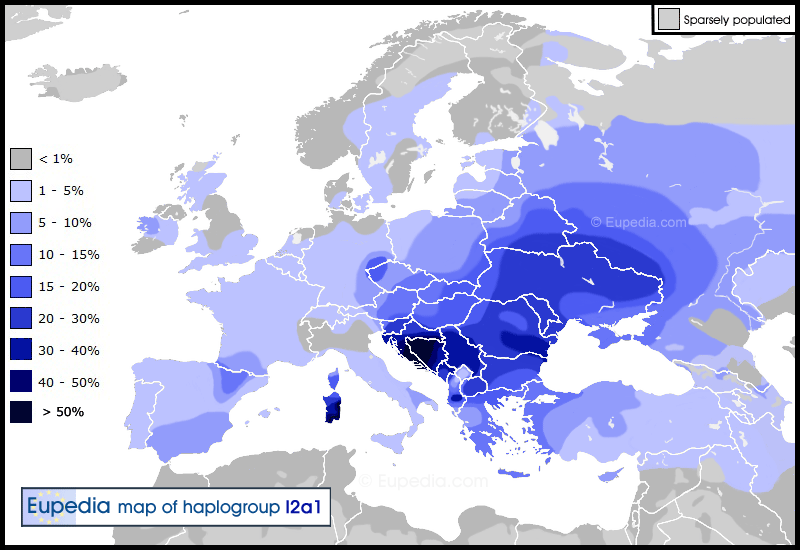 I2a2 (S33/M436/P214, P216/S30, P217/S23, P218/S32, L35/S150, L37/S153, L181) was known as I1c until 2005 and I2b until 2010. It is associated with the pre Celto-Germanic people of North-Western Europe, such as the megaliths builders (5000-1200 BCE). The wide variety of STR markers within I2b could make it as much as 13,000 years old.
I2a2 is found in all Western Europe, but apparently survived better the Indo-European invasions (=> see R1b) in northern Germany, and was reintroduced by the Germanic invasions during the late Roman period. Nowadays, I2a2 peaks in central and northern Germany (10-20%), the Benelux (10-15%) as well as in northern Sweden. It is also found in 3 to 10% of the inhabitants of Denmark, East England, and Northern France. It is rare in Norway, which concords with the fact that it hasn't been invaded by people from northern Germany.
There are two major subclades : I2a2a and I2a2b, the former further subdivided in four subclades:
I2a2a (M223+, formerly I2b1) amounts to over 90% of I2a2.

I2a2a1 (M284+) occurs almost exclusively in Britain, where it seemingly developed about 3,000 years ago.
I2a2a2 (L701+) has a very wide distribution. It is found in all Central Europe from Germany and the former Austrian Empire to Poland, Romania and Ukraine, but also in Greece, Italy, France, Spain, England, Ireland, and Armenia. It could have been spread in part by the Goths. It is conspicuously absent from Scandinavia and Scotland. L701+ matches the I2 Continental 3 clade at Family Tree DNA.
I2a2a3 (Z161+) is commonly known as the I2 Continental clade (except Continental 3). It is the largest of the four subclades of I2a2a and is found predominantly in Germanic countries, with a particularly high concentration in Denmark, Germany, the Netherlands, England and in Northwest Sicily (Norman settlement). It is also found at lower densities throughout the rest of Europe, from Portugal to Russia.
I2a2a4 (L1229+) is typical of England, Normandy (and other parts of France) as well as central and northern Germany. It is also found among English surnames in Ireland, although not Norman ones (rather Anglo-Saxon ones). Its much higher density in Germany and England than in Denmark or France, and its absence from Sicily, indicate that it is probably an Anglo-Saxon lineage rather than Norman/Viking.

I2a2b (L38/S154+, formerly I2b2) has a distribution mostly limited to the German Rhineland and Harz mountains, the Low Countries and the British Isles (except notably Cornwall, Wales, Cumbria and the Scottish Highlands). Four out of the six samples from the 3000-year old Lichtenstein Cave in central Germany belonged to L38+. The cave was part of the Bronze Age Urnfield Culture. Based on the STR dating, it is believed that this lineage spread from Germany to England via Belgium in the Late Iron Age with the Celtic people of the La Tčne Culture.
Distribution of haplogroup I2a2 (formerly I2b) in Europe
I2b (L416, L417, L418) is a very minor subclade so far observed in a few samples from Germany, Italy and Scotland.
I2c (L596, L597) probably originated around the Rhine region. It can be divided in three groups: A, B and C. Groups C and A seem to have expanded respectively during the Celtic Bronze and Iron ages, alongside R1b-S116/P312. Group A is geographically limited to Germany, Switzerland, Britain and Ireland. Group C has a similar distribution but has also been found in France, Italy and Norway. Group B is found at low frequencies in Northeast Europe (Poland, Lithuania, Russia, Ukraine, Moldova), Southeast Europe (Romania, Bulgaria, Crete), and West Asia (Anatolia, Georgia, Armenia, Azerbaijian and Northwest Iran).
Famous individuals
| | |
| --- | --- |
| | A direct descendant of Sir Henry Clinton (1730-1795) tested as I2-M223, predicted with moderate confidence to be I2-Isles-E L1193+, or I2a2a1 in current ISOGG nomenclature. Sir Henry Clinton was the British Commander-in-Chief in North America during the American War of Independence. is notable patrilineal relatives included the Earls of Lincoln and most of the Dukes of Newcastle, all presumably belonging to the same haplogroup. |
| | |
| --- | --- |
| | The I2* Haplogroup Project (new ISOGG I2b and I2c) was able to determine that the haplotype of the Georgian house of Tsitsishvili was I2c-B (L596+). The most famous member Pavel Tsitsianov (1754-1806), an Imperial Russian military commander and infantry general who also served as head of the Russian troops in Georgia and Viceroy of the Caucasus. |
| | |
| --- | --- |
| | Hannibal Hamlin, the Vice President of the United States serving under President Abraham Lincoln during the American Civil War, was identified as a member of haplogroup I2-M223-Cont2a L801/Z76+ (or I2a2a3a in current ISOGG nomenclature) based on the results from the I-M223 Project. He also served as Secretary of the Treasury (twice), Secretary of State, Speaker of the United States House of Representatives (twice), Governor of Maine, U.S. Ambassador to Spain, then Envoy Extraordinary and Minister Plenipotentiary to Spain. |
| | |
| --- | --- |
| | Miklós Horthy (1868-1957), was Regent of of the Kingdom of Hungary from 1920 to 1944. Prior to this, Admiral Horthy served as commander-in-chief of the Austro-Hungarian Navy in the last year of the First World War. In 1919, he ousted the communists of Béla Kun from Hungary and banned the Hungarian Communist Party. The following year was declared Regent and Head of State. Cousins of Horthy posted their Y-DNA resultas at MolGen, and all belonged to I2a-Din-N (or I2a1b3a in current ISOGG nomenclature). |
| | |
| --- | --- |
| | The American magazine publisher Henry Luce belonged to haplogroup I2-M223-Isles-E L1193+, (a.k.a. I2a2a1 in current ISOGG nomenclature) according to the Luce Surname Project. He launched the magazines Time, Life, Fortune, and Sports Illustrated and was called "the most influential private citizen in the America of his day". |
Other notable I2 individuals in the forum thread Searching for famous I2 carriers.
Follow-up